According to a report issued by UBS Investment Research recently, Apple's smartphone – iPhone users shows their strong loyalty to this product, the retention rate is up to 89 percent, beats other smartphones and outdistances the second one, HTC, which only has a retention rate of  39 percent.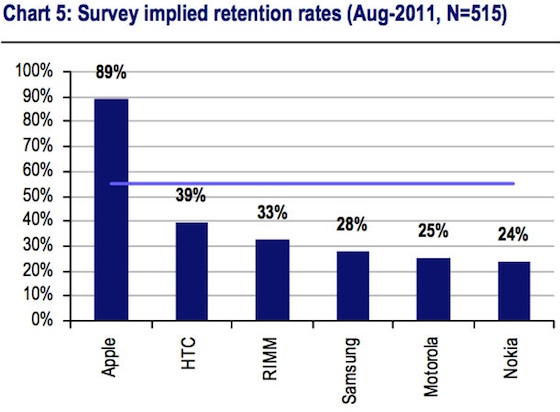 RIM is in the third place, with a retention rate of 33 percent; the following is Samsung with 28 percent; Motorola is successive with a retention rate of 25 percent and Nokia is ranked in the last of the top six, with one percent lower than Motorola, 24 percent.
From the report, we can see that, Android as a whole has a planned retention rate of about 55%, indicating that a  number of current users of Android handsets do intend to stick with Andorid, Google's mobile platform, while some are planning to switch manufacturer, up to 31% of surveyed Android users report intending to switch to the iPhone for their next device, with over 50% of the total "switchers" planning to move to Apple from another manufacturer as only about 10% of switchers are moving away from Apple.
At last, I want to ask a question: What smartphone are you using? And if it's not iPhone, will you switch to iPhone when the rumors abouth iPhone 5 is spreading out widely world-widely? Or to be a strong-loyalty user sticking on the former OEM?